At both our offices in St. Charles and Creve Coeur, we get a lot of questions about what is appropriate for a child's dental hygiene. When it comes to a child's primary teeth, additional considerations should be taken before undergoing any procedure because of how integral they are to oral development.
One common question we hear is whether or not it's okay to whiten a child's primary teeth. While it is important for their smile to be bright during their formative years, several factors must be considered. Today's blog provides some practical advice when considering whitening your child's teeth.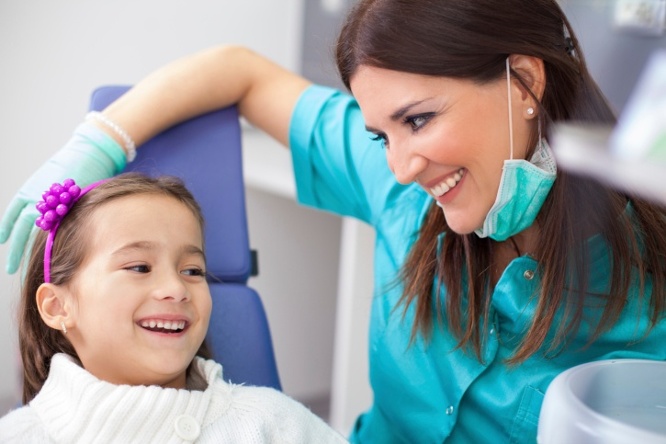 First, it's important to know that the Academy of General Dentistry advises holding off on whitening until your child reaches 14-years-old. This gives the tooth pulp plenty of time to mature which will reduce the level of sensitivity in their teeth.
However, if you're considering allowing them to use over-the-counter whitening strips, it's best to hold off until they are at least 16-years-old. The chemicals in these strips can be very abrasive.
When your child's permanent teeth begin to come in, you may notice that they appear more yellow than their primary counterparts. Don't be concerned, this is perfectly normal. Primary teeth are always whiter than permanent teeth. This does not indicate that the teeth are unhealthy.
Many children with braces want to whiten their teeth because of the whiter areas that remain where the braces were. It's a common issue, because braces provide long-term protection from food stains in those specific areas.
Teeth-Whitening Alternatives
Confronting this head-on before it becomes an issue is key. So, to prevent or treat these types of stains, we recommend:
Make regular dental appointments—after all, we love seeing you and your children in our offices! You don't have to wait for the six-month mark to get a cleaning and check up. And unlike an over-the-counter solution, a dentist will screen and monitor the procedure to ensure that it is personalized, safe and effective.
Avoid tooth-staining food and drink—you know what they say about an ounce of prevention. Avoiding soda, sugar-loaded sweets, and other types of food and drink that lack nutritional value is the first line of defense against cavities and stains.
Use whitening toothpaste—they are much gentler than the bleaches found in whitening strips. There are several brands that have mild abrasives or polishing agents that help whiten teeth. Of course, brushing twice a day regularly scrubs away food particles and helps keep teeth white.